If you are a parent, you understand the moral decline in America is real. Frankly, it's the whole society but it is most evident in our young people.
We see it every day we try to make contact with aliens in our home, formerly known as our children, that are now teenagers. Who are these people anyway?
The once sweet snuggly kids with sticky kisses are now regularly spewing words from the same lips telling us that we don't know anything.
Sound familiar?
Perhaps we don't know everything…
Let's face it, our world has changed. What our kids encounter on a daily basis is not to be compared with what we faced years ago. The moral decline in America today vs. the past is different.
What we winked at years ago is fully celebrated now. Good is evil, evil is good.
As parents, how do we start breaking down the lies of the world and impart truth in a meaningful way without coming across as out of touch, severe, or unapproachable?
Before I answer these questions, let's take a walk down memory lane. Tracing the moral decline in America from long ago will help you understand when it started it. The graphs provided points to the same time period the morality in America shifted.
What Are the Causes of Moral Decline in America?
What is causing the moral decline in America? Statistically, it started in the 60s and 70s. Here are examples of the moral decline in America that happened during that time:
The Sexual Revolution
Two things happened to push us into the sexual revolution and create a moral decline in America:
1. The birth control pill
In 1960, the birth control pill came out. While this advancement was a good thing for family planning, it also gave women new freedom to have sex without consequence (or so we thought).
Sex became more of a recreation than a commitment. Sounds liberating on the surface, right? Not so in the long run.
2. The legalization of abortion.
In 1973, the Supreme Court decision of Roe v. Wade made abortion legal. This allowed a woman to abort a baby before giving birth, devaluing the sanctity of life.
While we have made huge progress in this area by putting the decision back to the states, some states are determined to pass legislation that continues to exterminate the unborn.
Perhaps most women didn't know there would be a high cost for that freedom. One that would eventually trap them into bondage in the long run instead of giving them empowerment.
RELATED: Want To Know Who Is Really Empowered By Abortion? Sex Traffickers And Abusers
Purchase your ebook or paperback on Amazon or at your favorite digital store.
Prayer Removed From Schools
On June 25, 1962, the US Supreme Court decided in Engel v. Vitale to take prayer out of public schools.
In 1963, the Court no longer allowed Bible readings before class due to two lawsuits, Murray v. Curlett and Abington School District v. Schempp.
In 1971, there was a religious test called the Lemon test (named after the case Lemon v. Kurtzman) which further separated God from the classroom. It stated three criteria for sponsoring state activities.
This closed even more loopholes in the system making it difficult to be a Christian and practice anything religious such as prayer or Bible reading on a school campus. This was one of the biggest causes of the moral decline in America.
10 Commandments Removed
In 1980, the Ten Commandments were banned from the classroom with the lawsuit Stone v. Graham. Since then, public schools have become more anti-God instead of neutral.
In 2005, the Ten Commandments were removed from governmental sites including courthouses, and it perpetuated the further moral decline in America.
No-Fault Divorce
In 1969, Governor Ronald Reagan signed the first no-fault divorce bill. Later, he admitted it was one of the worst political decisions of his career as this bill allowed couples to dissolve a marriage for any reason–or no reason at all.
Over the next decade, every state followed suit making divorce as easy as driving through McDonald's for a Happy Meal.
While divorce is sometimes a necessary evil, it should be considered a last resort for couples who have legitimately tried all other avenues.
Divorce has further perpetuated the moral decline in America, leaving families broken and unstable.
Kid's Sports On Sunday
Have you noticed that kids' sporting events are now on Sunday? There used to be actual laws in place that prohibited Sunday sports.
Now we have to make a decision…church or sports?
While the occasional Sunday competition is not a big deal, the perpetual week after week of games on Sunday morning has pushed families out of consistent communion with God and fellowship with other believers.
This is another sneaky way that we have seen the moral decline in America. We have traded the promise of sports scholarships for our spiritual growth.
Get your FREE TENT CAMPING CHECKLIST PDF to help pack for your next camping trip!
Are We In Moral Decline Today?
Let's fast forward and see what the declining morals in society 50 or 60 years ago have produced today.
Removing biblical morals and values from our society in the name of "freedom" has produced bondage in ways we never imagined.
The statistics are heartbreaking. We are like aimless sheep who have no direction, nor do we realize we are broken, dirty, and need help.
RELATED: 9 Shocking Reasons Why God Compares Us to Sheep In the Bible
Sexual Revolution in America Today
THE LIE: Birth control gives women freedom over their bodies. In fact, sexual freedom equals power. Sex outside of marriage has no consequences.
Here are some shocking statistics of the moral decline in America:
According to the CDC, about 55% of teens are sexually active by the age of 18. Out of the high schoolers surveyed, 27% had had sexual intercourse during the previous 3 months. Furthermore…
46% did not use a condom the last time they had sex.
12% did not use any method to prevent pregnancy.
21% had drunk alcohol or used drugs before the last sexual intercourse.
You can see in this graph how trends toward non-marital sex have continually increased since the 70s. Again this reflects the moral decline in America due to the sexual revolution.
CONSEQUENCES:
Because of the trend towards sexual promiscuity, STDs have increased exponentially. In fact, 1 in 4 teens will contract an STD every year.
According to the CDC, 2.4 million cases of gonorrhea, chlamydia, and syphilis combined were recorded in 2018, an all-time high. The moral decline in America 2018 was a big shock. In fact, 25% of all Americans have an incurable STD. 1 out of 5 people have genital herpes (50 million people). Unfortunately, 85% of Americans who have herpes don't even know it.
You can see how the STD stats started rising in the late 60s. This was the byproduct of "sexual freedom."
STDs aren't the only problem. Unwanted pregnancies are on the rise too.
According to the CDC, in 1960, only 5 percent of children were born out of wedlock. As of 2018, there were 1,503,361 live births to unmarried women.
Sadly, 8 out of 10 teen pregnancies are not planned, and 1 out of 4 girls will be pregnant before the age of 20. According to a Glamour magazine article, 51% of patients had used a contraceptive method the month they got pregnant.
43% of these unplanned pregnancies will end in abortion. The US has the highest teen pregnancy rate and abortions in the world.
Even when a pregnant teen girl decides to choose life, 8 out of 10 teen dads won't marry the mother. She is forced to parent alone.
The biggest consequence of sex outside of marriage is poverty. 44% of children who live with a single mother grow up in poverty as the median range of income for a single mother is $35,400.
Even if a woman does not get pregnant, there are still psychological consequences of premarital sex. Web MD says up 62% of women felt negative effects from their sexual encounters. In fact, many felt used when their partner left.
THE TRUTH:
Sex outside of marriage has physical, mental, and emotional consequences that can leave our kids powerless. In the end, it leads to bondage in multiple ways, especially for women. The "freedom" diatribe is a big fat lie.
Abortion in America Today
THE LIE:
There are no consequences for an abortion.
CONSEQUENCES:
Unfortunately, most abortions are used as a method of birth control for "accidents." Only a small number(1%-3%) are actually done to save a mother's life or in the case of rape.
From 1973 until now, there have been an estimated 60 million babies aborted in America. That's 3,657 abortions daily and 152 an hour.
The truth is that we have aborted about 18% of our American population.
Having an abortion doesn't come without real physical risks to the mother. Long-term effects include damage and scarring to the uterus and cervix. possible breast cancer, the risk of future full-term pregnancies, heavy bleeding, etc.
Sadly, the media does not talk about delayed emotional trauma which now has a formal name–Post-Abortion Stress Syndrome (PASS).
There is a range of emotions that happen when a woman terminates a pregnancy such as debilitating guilt, nightmares, PTSD, uncontrollable crying, depression, suicide, etc.
The moral decline in America is clearly connected to 60 million children dying at the hands of their mothers. We can't continue to do this and expect God to bless our nation.
*June 2022, the Supreme Court ruled that it is a state decision, not a federal issue. Immediately this triggered bans in many states.
THE TRUTH:
The abortion industry doesn't care about you; it's all about money. It's a billion-dollar industry! There are real consequences physically, spiritually, mentally, and emotionally for having an abortion. Yet again, almost all of the consequences fall on women who are shocked when they realize what they have done.
RELATED: 10 Ways The Pro-Abortion Left Proves It Isn't Pro-Choice Or Pro-Women
Fatherless Children in America Today
THE LIE: Women can do it all. We don't need men or fathers to help us raise our children.
CONSEQUENCES:
Here are some very powerful statistics from the Fatherhood Network:
63% of youth suicides are from fatherless homes (U.S. Dept. Of Health/Census) – 5 times the average.
85% of all children who show behavior disorders come from fatherless homes – 20 times the average. (Center for Disease Control)
80% of rapists with anger problems come from fatherless homes –14 times the average. (Justice & Behavior, Vol. 14, p. 403-26)
Fatherless boys and girls are twice as likely to drop out of high school; twice as likely to end up in jail; four times more likely to need help for emotional or behavioral problems. [U.S. D.H.H.S. news release, March 26, 1999]
As I said before, many single mothers live around the poverty level. Unfortunately, it is hard to break out of this cycle and improve living standards in the future without help.
Another interesting fact: The one thing almost all school shooters have in common is that they are all angry boys who lack a relationship with their fathers. In fact, most of their fathers are completely absent.
Here's a graph of US school shootings. You can clearly see that the timeline closely follows the legislation and decline in American values.
72% of Americans believe that a fatherless home is the most significant social problem and family problem that is facing their country. This one problem is playing a huge part in the moral decline in America.
TRUTH: Women need help to raise their kids. They need their men to contribute financially to the family and be emotionally available for the kids. Kids need both a father and a mother period.
Divorce In America Today
THE LIE:
I don't need to work on my marriage. I can walk away if I'm unhappy. There are no real consequences to the rest of the family if I am not contributing financially, physically, emotionally, or spiritually. It's all about me.
CONSEQUENCES:
The divorce rate in America as of 2017 is between 40%-50%. The statistics are hard to measure because there are fewer people getting married, so there are fewer divorces. Most people just live together…until they don't.
Once again, women (and children) suffer the most when things go awry.
Many times, a mother is caught between living with an abusive partner or losing the income and help of the father.
It's a terrible choice women are having to make just to survive. Divorce or separation eventually happens if there is abuse.
The result is our families are now fractured. When there is no male role model in the home, it contributes to the moral decline in America.
Most of the time the father only sees the kids on the weekends and holidays, if that. And the parents are no longer working together to raise the child on a united front.
It's a difficult situation not easily resolved without prayer, counseling, and healthy boundaries put in place.
THE TRUTH:
Pray! Ask God to intervene and give you wisdom on what to do. We are all sinful and need to work on ourselves and our marriage. Get help if there is abuse. Prayerfully consider moving you and your kids to a safe place until things improve.
RELATED: How to Change Your Husband Without Saying a Word
Get your BIBLE COLORING PAGES FOR ADULTS (PDF) AND KIDS while listening to the Bible.
Prayer, Bible Reading, and the Ten Commandments Today
LIE: We don't need God in our schools or government. We can do it without Him. In fact, we are our own moral compass. Whatever feels right, do it.
CONSEQUENCES:
God is mostly non-existent in our schools and in our government. We have lost touch with how to pray, who to pray to, and how to act as good citizens of the United States.
Just turn on the television and watch the nightly news and you will get a good picture of who we have become as a nation without prayer, God's word spoken, and a reminder of His laws displayed on the walls of our government buildings and schools.
TRUTH:
We need revival in this land. We need to return to God and do what is right, honest, just, and moral.
RELATED: 25 Different Methods of Prayer That Are Powerful
Kid's Sports in America Today
LIE: Our child is really talented and needs to do this for a scholarship. It's just a few Sundays here and there. We can get back into a church when things slow down.
CONSEQUENCES:
It may seem innocuous, but I have seen firsthand what it has done to strong Christian families as they slowly drop out of the church for one reason or another. In many cases, it's directly related to sports.
It all seems so innocent at the time, yet these small choices add up to a big deficit morally in our families.
Sadly, the kids pay the biggest price. Most people say they accepted Christ as a child. If faith is not passed down early, there is less of a chance for it to take root later in life.
This graph shows the decline in church attendance over the last twenty years.
According to this Gallup poll, those interviewed said they didn't have a preference. It just wasn't important to them.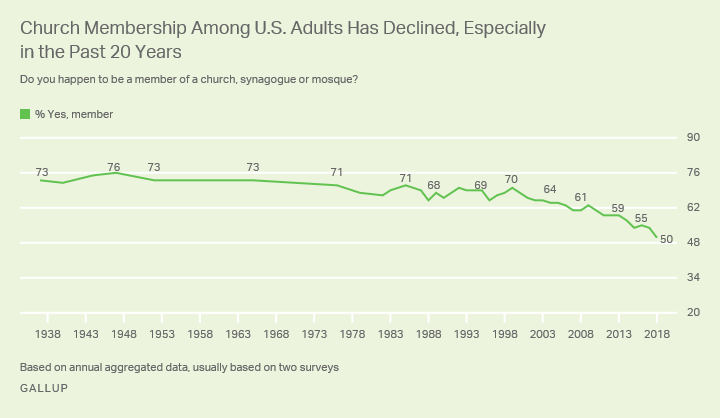 If you look closely, you can see the percentage of U.S. adults who are members of churches fell from 70% in 1999 to 50% in 2018. This is a big drop in a short amount of time.
Kids (and parents) need other Christians to help them stand strong. If they are not attending church regularly, that reinforcement slowly fades away. And so do the morals and values of the family which, in turn, leads to the moral decline in America.
THE TRUTH:
Families need to be in church consistently. You don't need to be legalistic, but be strategic about how much your family misses. Consider what is really important long-term for you and your kids.
7 Ways to Reverse the Trend of Declining Morals and Protect Our Kids
Make no mistake, we are affected by the decline of morality in America.
Check out these 7 things you can do as a parent to reverse the trend and restore humanity one family at a time. If Satan had these things strategically removed from our schools and government, you know exactly what you need to do…add them back!
Here is a list of morals and values to implement into your family:
1. Read the Bible
Not only do you need to read the Bible, read it to your kids regularly too. Pass your faith on to the next generation. Live according to its precepts with a balance of truth and grace. Admit when you are wrong and forgive easily. Love your kids unconditionally.
RELATED: Why Is Faith Important In Marriage and Family? 4 Ways We See God
2. Pray
You need a strong prayer life to raise kids these days. Pray with your kids and spend time praying alone. If Satan removed it from our schools, you know it is important. Prayer has the power to change things that seem impossible.
RELATED: How to Pray for Your Child: 6 Tips to Pray In Your War Room (really pray)
3. Follow God's Commands
The Ten Commandments are important. It's a great summation of God's laws. Furthermore, you don't have to stop there. The Bible is full of great wisdom on how to live daily according to God's will.
Routinely reinforce that God's laws offer freedom whereas the world's laws look fun for a time but, eventually, you end up in bondage.
4. Stay Married, if possible
Marriage is sacred. Treat it as such. Work through your difficulties or seek help if you are stuck. Fight for your marriage as this is Satan's number one way to divide and conquer your family.
A strong family will help you raise strong children. Don't be afraid to call out abuse and take steps to protect yourself and your kids, if necessary. Find a male role model for your kids if their father isn't going to be there.
RELATED: 15 Biblical Keys To a Successful Marriage That Are Powerful
5. Teach Abstinence
Teach your kids to wait. Start early and reinforce it in every way you can. Talk about the blessings of freedom for those who wait. Teach delayed gratification and that sin has big consequences.
RELATED: 15 Pro Tips for Raising a Teenage Son In Today's World
6. Join a Church
It is important for your family to be supported by the local church. Find a place that reinforces biblical values and also embraces relationships with other like-minded families. You can't do this alone. You will be swimming upstream and get washed out pretty quickly without a church family.
7. Family Time
You need to spend time together as a family and develop a strong relationship with each child. Eat together, volunteer, worship and pray together, go on vacations, play, create fun family memories, read books out loud, talk about current events, and most of all, listen.
Ask questions and value what your kids say. You will need this bond to parent in the teen years and redeem the moral decline in America.
RELATED: The #1 Best Gratitude Activity to Do with Your Teenager
Pin me for later!
What Is the Single Largest Contributor to the Moral Decline in America?
The single largest contributor to the moral decline in America is sin. We do not think we need a Savior. (Jesus is the answer.)
Following God will lead you to real freedom instead of the hidden bondage so many young people, in particular, are falling into unknowingly.
By teaching the truth to your kids, you will be raising a morally strong individual. Not perfect kids, but ones that clearly understand right from wrong.
I'll leave you with one more fact: Getting an education, a job, and waiting to have sex until marriage will statistically put you at low risk for divorce and keep you out of poverty. Ain't that something? God's ways work.
How do you think we should reverse the moral decline in America? Comment below.

Got Family Problems? There is Help and Hope!
Are you experiencing family problems or have a family estrangement? Do you feel shame, anger, or rejection? Check out my book Estranged: Finding Hope When Your Family Falls Apart on Amazon or at your favorite digital store.

This book not only talks about my seven-year estrangement from my Christian family but also gives solid tips to help you with your family problems. Break free from your pain. Allow God to heal you no matter what has happened in your family of origin. There is hope when your family falls apart.
Creating Family Memories Book
Get Creating Family Memories. This book will help you manage your family in a way that allows more time to be intentional with your kids. It includes a schedule too. You can get it at your favorite bookstore.

Join the group Christian Family Living on Facebook
Continue the conversation on Facebook and join the group Christian Family Living. This is a place for Christian women to freely talk about parenting, marriage, faith, family, and culture. Being a Christian is hard! Let's do it together. Most of all, a sense of humor is required. Got memes? Bring it on!
There are tips on building a Christian home, parenting, marriage, family issues, and faith. Learn how to get back to the things that matter most in your life and the life of your family. It's time for a revival!